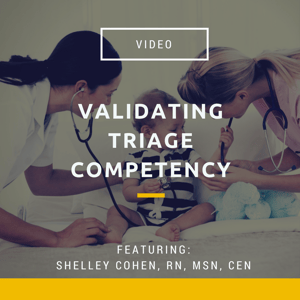 WEBINAR: Validating Triage Competency
Each year, over 130 million people will visit an emergency department in the United States. Because each ED visit starts with an acuity evaluation by a triage nurse, it is critical to ensure each one is equipped with the knowledge to make the proper patient assessment. Join Shelley Cohen as she breaks down the triage competency process.

In this webinar, you'll learn:
The essentials related to competency processes and practices.
Multiple methods of triage competency validation.
Benefits of retrospective chart review for the triage nurse.